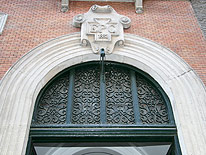 Master and PhD in Economics
Applications for the Master in Economics and Finance and the Doctoral Program in Economics are now open. The deadline to be eligible for funding is 17 February 2020. Applications will be reviewed until 15 May 2020 or when the programs reach capacity (whichever occurs first).
Selected recent publications
Javier Mencía and Enrique Sentana,
Volatility-related exchange traded assets: An econometric investigation,Journal of Business and Economic Statistics, 36 (2018), 599-614.
Gerard Llobet and Jorge Padilla,
Conventional power plants in liberalized electricity markets with renewable entry,The Energy Journal, 39 (2018), 69-91.
© CEMFI. All rights reserved.