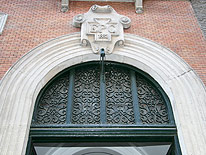 CEMFI Summer School
The CEMFI Summer School is aimed at providing academics and practitioners with an opportunity to update their training in fields within CEMFI's range of expertise. This year it offers courses in Econometrics, Macroeconomics, Banking, Corporate Finance, and Industrial Economics. Applications are welcome.
Selected recent publications
Javier Mencía and Enrique Sentana,
Volatility-related exchange traded assets: An econometric investigation,Journal of Business and Economic Statistics, 36 (2018), 599-614.
Tincho Almuzara, Dante Amengual and Enrique Sentana,
Normality tests for latent variables,Quantitative Economics, 10 (3) (2019), 981-1017.
© CEMFI. All rights reserved.