People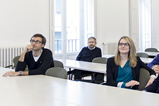 Educational and research excellence at CEMFI are based on the talent, enthusiasm and achievements of its faculty and researchers.
CEMFI has a full-time faculty of sixteen professors. Among them there are 3 Fellows of the Econometric Society, 3 Fellows of the European Economic Association, and 8 Research Fellows of the Centre for Economic Policy Research (CEPR). Their work is complemented with the contributions of other researchers and PhD students, as well as visiting and associated faculty, and numerous short-term visitors.
Related content
© CEMFI. All rights reserved.