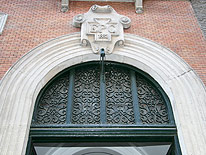 CEMFI Summer School
The CEMFI Summer School is aimed at providing academics and practitioners with an opportunity to update their training in fields within CEMFI's range of expertise. This year it offers courses in Econometrics, Macroeconomics, Banking, Corporate Finance, and Industrial Economics. Applications are welcome.
Selected recent publications
Gabriele Fiorentini and Enrique Sentana,
Consistent non-Gaussian pseudo maximum likelihood estimators,Journal of Econometrics, 213 (2019), 321-358.
Joao Santos and Javier Suarez,
Liquidity standards and the value of an informed lender of last resort,Journal of Financial Economics, 132 (2019), 351-368.
© CEMFI. All rights reserved.