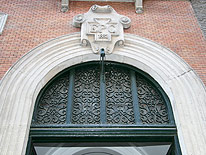 Master and PhD in Economics
Applications for the Master in Economics and Finance and the Doctoral Program in Economics are now open. The deadline to be eligible for funding is 17 February 2020. Applications will be reviewed until 15 May 2020 or when the programs reach capacity (whichever occurs first).
Selected recent publications
Manuel García-Santana, Enrique Moral-Benito, Josep Pijoan-Mas and Roberto Ramos,
Growing Like Spain: 1995-2007,International Economic Review, 61 (1) (2020), 383-416.
Dante Amengual and Dacheng Xiu,
Resolution of policy uncertainty and sudden declines in volatility,Journal of Econometrics, 203 (2018), 297-315.
© CEMFI. All rights reserved.