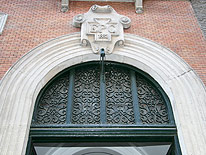 Master and PhD in Economics
Applications for the Master in Economics and Finance and the Doctoral Program in Economics are now open. The deadline to be eligible for funding is 17 February 2020. Applications will be reviewed until 15 May 2020 or when the programs reach capacity (whichever occurs first).
Selected recent publications
Gabriele Fiorentini, Alessandro Galesi and Enrique Sentana,
A spectral EM algorithm for dynamic factor models,Journal of Econometrics, 205 (2018), 249-279.
Samuel Bentolila, Marcel Jansen and Gabriel Jiménez,
When Credit Dries Up: Job Losses in the Great Recession,Journal of the European Economic Association, 16 (2018), 650–695.
Quick links & agenda
© CEMFI. All rights reserved.