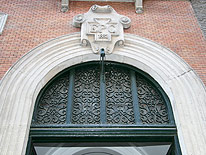 Master and PhD in Economics
Applications for the Master in Economics and Finance and the Doctoral Program in Economics are now open. The deadline to be eligible for funding is 17 February 2020. Applications will be reviewed until 15 May 2020 or when the programs reach capacity (whichever occurs first).
Selected recent publications
Joao Santos and Javier Suarez,
Liquidity standards and the value of an informed lender of last resort,Journal of Financial Economics, 132 (2019), 351-368.
Laia Calvó-Perxas, Josep Garre-Olmo, Howard Litwin, Pedro Mira, Oriol Turró-Garriga and Joan Vilalta-Franch,
What seems to matter in public policy and the health of informal caregivers? A cross-sectional study in 12 European countries,PLOS ONE, 13 (2018), .
Quick links & agenda
© CEMFI. All rights reserved.