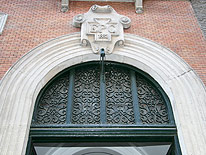 Master and PhD in Economics
CEMFI offers a high-quality graduate program leading to the official degrees of Master in Economics and Finance and PhD in Economics.
Selected recent publications
Gabriele Fiorentini, Alessandro Galesi and Enrique Sentana,
A spectral EM algorithm for dynamic factor models,Journal of Econometrics, 205 (2018), 249-279.
Dante Amengual and Enrique Sentana,
Is a normal copula the right copula?,Journal of Business & Economic Statistics, 38 (2020), 350-366.
Quick links & agenda
© CEMFI. All rights reserved.