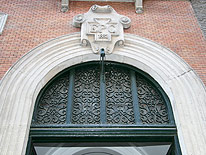 CEMFI Summer School
The CEMFI Summer School is aimed at providing academics and practitioners with an opportunity to update their training in fields within CEMFI's range of expertise. This year it offers courses in Econometrics, Macroeconomics, Banking, Corporate Finance, and Industrial Economics. Applications are welcome.
Selected recent publications
Victor Aguirregabiria and Pedro Mira,
Identification of games of incomplete information with multiple equilibria and unobserved heterogeneity,Quantitative Economics, 10 (2019), 1659-1702.
Caterina Mendicino, Kalin Nikolov, Javier Suárez and Dominik Supera,
Optimal dynamic capital requirements,Journal of Money, Credit and Banking, 50 (2018), 1271-1297.
Quick links & agenda
© CEMFI. All rights reserved.