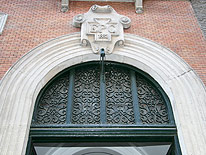 Master and PhD in Economics
The application period for the Master in Economics and Finance and the Doctoral Program in Economics is now open. The deadline to be eligible for funding is 1 February 2021. Applications will be reviewed until 31 May 2021.
Selected recent publications
Paula Bustos, Gabriel Garber and Jacopo Ponticelli,
Capital Accumulation and Structural Transformation,The Quarterly Journal of Economics, 135 (2) (2020), 1037-1094.
Nezih Guner, Javier López Segovia and Roberto Ramos,
Reforming the Individual Income Tax in Spain,SERIEs - Journal of the Spanish Economics Association, 11 (2020), 369-406.
Samuel Bentolila, Juan J. Dolado and Juan F. Jimeno,
Dual Labor Markets Revisited,Oxford Research Encyclopedia of Economics and Finance, (2020), 1-34.
Gabriele Fiorentini and Enrique Sentana,
Consistent non-Gaussian pseudo maximum likelihood estimators,Journal of Econometrics, 213 (2019), 321-358.
© CEMFI. All rights reserved.