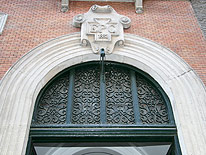 CEMFI Summer School
The CEMFI Summer School is aimed at providing academics and practitioners with an opportunity to update their training in fields within CEMFI's range of expertise. This year it offers courses in Econometrics, Macroeconomics, Banking, Corporate Finance, and Industrial Economics. Applications are welcome.
Selected recent publications
Manuel García-Santana, Enrique Moral-Benito, Josep Pijoan-Mas and Roberto Ramos,
Growing Like Spain: 1995-2007,International Economic Review, 61 (1) (2020), 383-416.
Dante Amengual and Dacheng Xiu,
Resolution of policy uncertainty and sudden declines in volatility,Journal of Econometrics, 203 (2018), 297-315.
© CEMFI. All rights reserved.