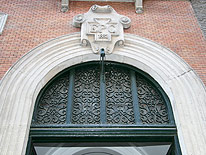 CEMFI Summer School
The CEMFI Summer School is aimed at providing academics and practitioners with an opportunity to update their training in fields within CEMFI's range of expertise. This year it offers courses in Econometrics, Macroeconomics, Banking, Corporate Finance, and Industrial Economics. Applications are welcome.
Selected recent publications
Laia Calvó-Perxas, Josep Garre-Olmo, Howard Litwin, Pedro Mira, Oriol Turró-Garriga and Joan Vilalta-Franch,
What seems to matter in public policy and the health of informal caregivers? A cross-sectional study in 12 European countries,PLOS ONE, 13 (2018), .
Manuel García-Santana, Enrique Moral-Benito, Josep Pijoan-Mas and Roberto Ramos,
Growing Like Spain: 1995-2007,International Economic Review, 61 (1) (2020), 383-416.
Quick links & agenda
© CEMFI. All rights reserved.