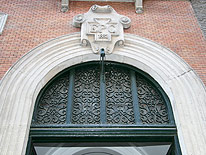 CEMFI Summer School
The CEMFI Summer School is aimed at providing academics and practitioners with an opportunity to update their training in fields within CEMFI's range of expertise. This year it offers courses in Econometrics, Macroeconomics, Banking, Corporate Finance, and Industrial Economics. Applications are welcome.
Selected recent publications
Yarine Fawaz and Pedro Mira,
Bereavement, loneliness and health,in Börsch-Supan, A., Bristle, J., Andersen-Ranberg, K., Brugiavini, A., Jusot, F., Litwin, H., Weber, G. (eds.), Health and socio-economic status over the life course. First results from SHARE Waves 6 and 7, , Gruyter (2019), 259-265.
Samuel Bentolila, Marcel Jansen and Gabriel Jiménez,
When Credit Dries Up: Job Losses in the Great Recession,Journal of the European Economic Association, 16 (2018), 650–695.
© CEMFI. All rights reserved.