Enrique Sentana
Ph.D. in Economics, London School of Economics, 1991
Personal details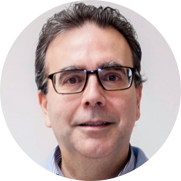 Research interests
Predictability of stock market returns and exchange rates; factor models for financial returns and macroeconomic time series; volatility derivatives; conditional mean-variance analysis and spanning tests; non-normal distributions and copulas for portfolio allocation, option valuation and risk management; estimation by simulation; identification tests in structural models, dynamic specification tests.
Selected publications
"Valuation of VIX Derivatives," with Javier Mencía, Journal of Financial Economics, 108 (2013), 367-391.
"Underidentification?," with Manuel Arellano and Lars Peter Hansen, Journal of Econometrics, 170 (2012), 256-280.
"Spanning Tests in Return and Stochastic Discount Factor Mean-Variance Frontiers: A Unifying Approach," with Francisco Peñaranda, Journal of Econometrics, 170 (2012), 303-324.
"Multivariate Location-Scale Mixtures of Normals and Mean-Varianceskewness Portfolio Allocation," with Javier Mencía, Journal of Econometrics, 153 (2009), 105-121.
"Constrained Indirect Estimation," with G. Calzolari and G. Fiorentini, Review of Economic Studies, 71 (2004), 945-973.
"Likelihood Estimation of Latent Generalised ARCH Structures," with G. Fiorentini and N. Shephard, Econometrica, 72 (2004), 1481-1517.