Carlos Sanz
PhD in Economics, Princeton University, 2016
Personal details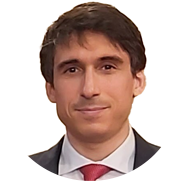 Research interests
Political Economy, Applied Microeconomics
Selected publications
"Women's Representation in Politics: The Effect of Electoral Systems", with Martín Gonzalez-Eiras, Journal of Public Economics, 198 (2021), 104399.
"Rank Effects in Bargaining: Evidence from Government Formation", with Thomas Fujiwara, Review of Economic Studies, 87 (3) (2020), 1261–1295.
"Backing the Incumbent in Difficult Times: The Electoral Impact of Wildfires", with Roberto Ramos, Comparative Political Studies, 53 (3-4) (2020), 469-499.
"Economic Uncertainty and Divisive Politics: Evidence from the Dos Españas", with Sandra García-Uribe and Hannes Mueller, Journal of Economic History, working paper.