Studies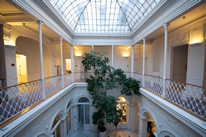 News | Graduate Program
15/11/2017
The CEMFI Graduate Program is now accepting applications for September 2018. For more information about our Master in Economics and Finance and the PhD in Economics, please click here.
06/11/2017
Douglas W. Diamond

(University of Chicago Booth School of Business) delivers opening lecture on Liquidity Requirements, Liquidity Choice and Financial Stability. (Photo

)
© CEMFI. All rights reserved.