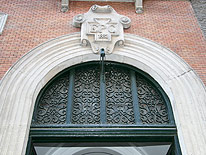 Master and PhD in Economics
Applications for admission to the Master and the PhD in Economics are open from 14 November 2016. The deadline to be eligible for funding is 14 February 2017 and the final application deadline is 29 April 2017.
Quick links & agenda
27 October 2016 (13:30)
Empirical Microeconomics Workshop
Mine Senses (Johns Hopkins University) presents Trade Shocks and the Provision of Local Public Goods

(with Leo Feler)
28 October 2016 (13:30)
MadMac Workshop
Kurt Mitman (IIES en Estocolmo) presents "Consumption and House Prices in the Great Recession" (with Greg Kaplan y Gianluca Violante)
© CEMFI. All rights reserved.