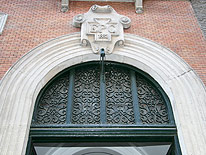 CEMFI Summer School
The CEMFI Summer School is aimed at providing academics and practitioners with an opportunity to update their training in fields within CEMFI's range of expertise. This year it offers courses in Econometrics, Macroeconomics, Banking, Corporate Finance, and Industrial Economics. Applications are welcome.
Selected recent publications
Nezih Guner, Remzi Kaygusuz and Gustavo Ventura,
Child-Related Transfers, Household Labour Supply, and Welfare,The Review of Economic Studies, 87 (5) (2020), 2290 - 2321.
Samuel Bentolila, J. Ignacio García-Pérez and Marcel Jansen,
El paro de larga duración de los mayores de 45 años,Papeles de Economía Española, 156 (2018), 30-46.
Quick links & agenda
© CEMFI. All rights reserved.