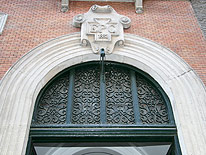 Master and PhD in Economics
The application period for the Master in Economics and Finance and the Doctoral Program in Economics is now open. The deadline to be eligible for funding is 1 February 2021. Applications will be reviewed until 31 May 2021.
Selected recent publications
Pedro Albarrán and Manuel Arellano,
GMM estimation from incomplete and rotating panels,Annals of Economics and Statistics, 134 (2019), 5-42.
Yarine Fawaz and Pedro Mira,
Bereavement, loneliness and health,in Börsch-Supan, A., Bristle, J., Andersen-Ranberg, K., Brugiavini, A., Jusot, F., Litwin, H., Weber, G. (eds.), Health and socio-economic status over the life course. First results from SHARE Waves 6 and 7, , Gruyter (2019), 259-265.
Esteban García-Miralles, Nezih Guner and Roberto Ramos,
The Spanish personal income tax: Facts and parametric estimates,SERIEs - Journal of the Spanish Economic Association, 10 (2019), 439-477.
Gabriele Fiorentini and Enrique Sentana,
Consistent non-Gaussian pseudo maximum likelihood estimators,Journal of Econometrics, 213 (2019), 321-358.
© CEMFI. All rights reserved.